Accessibility
At The Garden Cinema, we welcome all film lovers and want our venue to be accessible to as many people as possible. We are continually working to improve our accessibility. If you have any thoughts or feedback on how we can make our venue more accessible, please email us at info@thegardencinema.co.uk

Journey to the cinema
By Tube: The closest London Underground station with step-free access is Tottenham Court Road, which is half a mile away.
By Car: The closest carpark is less than 100m away at NCP: WC2B 5NT.
Blue badge parking options near The Garden Cinema (lasted updated May 10th):
Great Queen Street - 3 spaces (outside Hercules Pillars)
Newton Street - 1 space (outside Aria House)
Drury Lane - 1 space (outside Retro London Shop)
There is step free access to the venue from the main entrance, which is at street level. 
Booking as a wheelchair user
We have 1 bookable space in each screen for wheelchair users.
To book a wheelchair user space for any screening, please email info@thegardencinema.co.uk or call 020 3369 5000 between 12-10pm.
When booking:
Please let us know whether or not you will transfer to a cinema seat, so we know what seating arrangements to make, many thanks.
If you have booked a wheelchair user's space if you can no longer attend, please let us know if you can so we can offer this space to another customer.
Please note:
-These spaces are all in the front row of the auditorium. The front row is 210 cm away from the screen 1 and 137 cm away in screen 2.
-The limit of 2 wheelchair users' spaces is due to the venue's layout and evacuation procedures. Please see the section further down this page on Emergency Procedures for Access Customers for more information.
Other step free seating requirements
In each screen, the front row of the auditorium is step free. The second row has one step.
If you require step free seating or minimal steps due to an access need, please book a seat in one of these rows via the general booking system.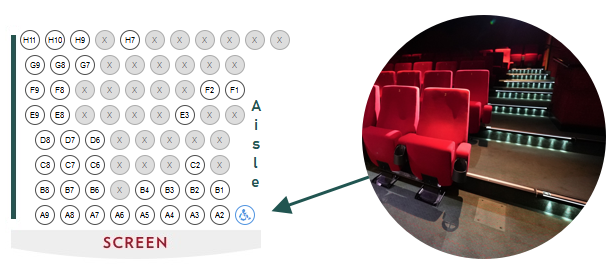 Lift
Accessible route which leads to the lift is on the right-hand side after entering the main entrance. 
Toilets
A wheelchair accessible toilet is situated in our basement bar. It has an emergency pull cord, radar lock, a right hand transfer space, support rails next to the toilet and a lowered sink with lever tap.
CEA Cards
We welcome customers with CEA cards.
The CEA Card is a national card scheme developed for UK cinemas by the UK Cinema Association (UKCA). The Card enables a cinema guest to receive a complimentary ticket if they need someone to go with them when they visit a participating cinema (essential companion). You can apply via the CEA Website.
A seat for the Essential Companion can be booked online by selecting seat A2 for any screening, then scrolling down in the dropdown menu to the CEA card option. You will then need to enter your CEA card number.
If you have applied for a CEA card but not yet received it and you wish to book an essential companion seat, please email info@thegardencinema.co.uk or call 020 3369 5000 (12pm-10pm) for assistance.  
D/deaf and Hard of Hearing customers
Many of our screenings are subtitled, but we also screen weekly 'Hard-of-Hearing' (HOH) screenings with Descriptive Subtitles included.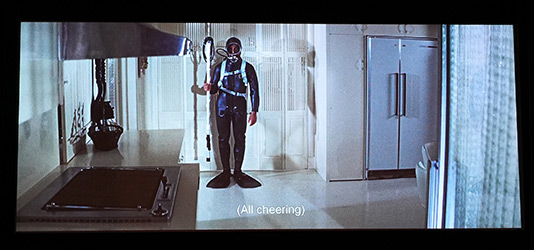 Blind/visually impaired customers
 Audio Description headsets are available for visually impaired customers.  We offer Audio Description for any screening in SCREEN 1, where it is available in the DCP provided by the distributor. The front row is 210 cm away from the screen 1 and 137 cm away in screen 2.